World Yachts Destiny
Create a fun and casual affair for 50 to 249 guests aboard The Destiny. Like her big sisters The Princess and Duchess, your guests will enjoy the same breathtaking views, exceptional food and service in an intimate setting.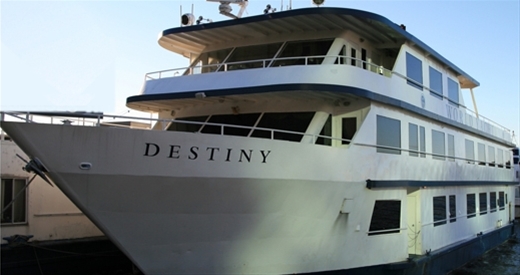 Maximum Capacity: 249 Passengers
Savor a Laidback New York Exploration Tour aboard World Yachts Destiny
If you really love New York City, then you must do it justice by consistently exploring it to learn more.  This is one of the most magnificent cities in the world and it is no wonder that millions of tourists troop into this city that never sleeps. If you want to fully savor this great city, the World Yachts Destiny provides an apt touring opportunity. This 110 ft. stunner is perfect for private and corporate events with its spacious interior, allowing up to 249 passengers. It boasts a relaxed setting for all types of NYC and the climate-controlled interior deck is perfect for parties all year round. The cruise yacht charter boasts a semi-enclosed outdoor deck that allows your guests to drink in the awe-inspiring city skyline and landmarks such as the Brooklyn Bridge, Manhattan Bridge, Emperor Building and the magnificent Statue of Liberty.
The interior also features elegantly appointed furniture which allows for a casual atmosphere as your party guests absorb the breathtaking views in the background. There is a spacious in-built dance floor that will spice up your party by ensuring the guests are always on their feet.  There is a modern surround sound system and a full-bar service on both decks. The food is prepared on board by an experienced chef and if you have any special requests for your party, the staff will be at hand to assist. This NY boat rental gives you the chance to host a remarkable private luxury party that will remain in the memory of your guests for years.