The Skyline Princess, with three spacious enclosed levels and climate controlled. The third level is enclosed with an outdoor observation deck, perfect for any photo opportunity.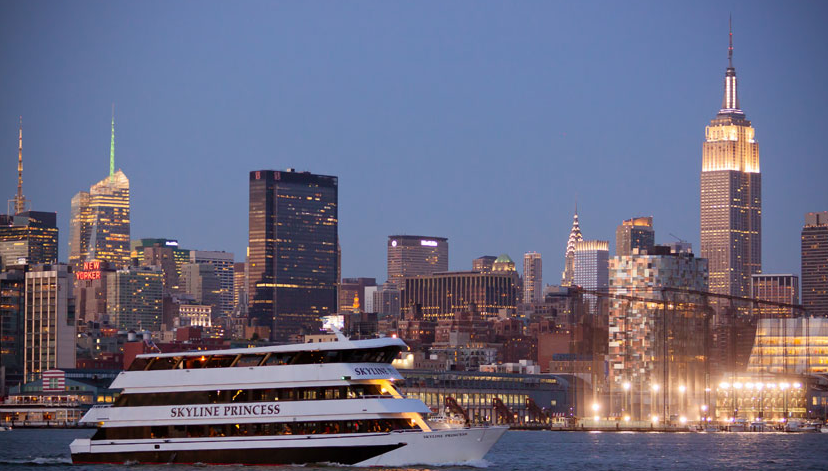 Maximum Capacity: 450 Passengers

Skyline Princess: Providing Unforgettable Views of New York skyline
Are you looking for the perfect way to entertain your guests in New York City? Most likely you have come across hundreds of ideas, most of which are uninspiring. If you want to treat your guests to an unforgettable time in NYC, a lunch or dinner cruise aboard our Skyline Princess yacht is your best bet. This 120 ft. beauty has a maximum capacity of 450 passengers, making it ideal for sightseeing cruises or the best private parties in the city.  The luxury boast boasts over 6,000 sq. ft. of interior space, which means your guests will comfortably enjoy the cruise. Our cruise yacht charter features three climate-controlled and enclosed decks perfect for any type of NY party. The third level features an observatory deck for passengers to catch the most fascinating views of Manhattan's skyline and amazing landmarks such as the Statue of Liberty, freedom Tower, and Brooklyn Bridge among others.
On board there are 3 full-service bars, spacious dancing floors on each deck and five outdoor viewing areas to ensure you never miss any view of the city's famed skyline. The Skyline Princess offers a serene environment for your private or corporate events with personalized seating provided on request. There is an onboard chef who ensures only fresh meals are served to your guests. Your guests will enjoy a buffet-style dining experience with entrees to set the ball rolling. This boat rental is perfect for any occasion from wedding receptions, anniversaries, Bar Mitzvahs to corporate events in the city. If you have a forthcoming private luxury party in the city, contact the crew for customized party solutions.