This gorgeous 80-foot, Twenties-style yacht offers elegance and comfort, wrapped in turn-of-the-century tradition.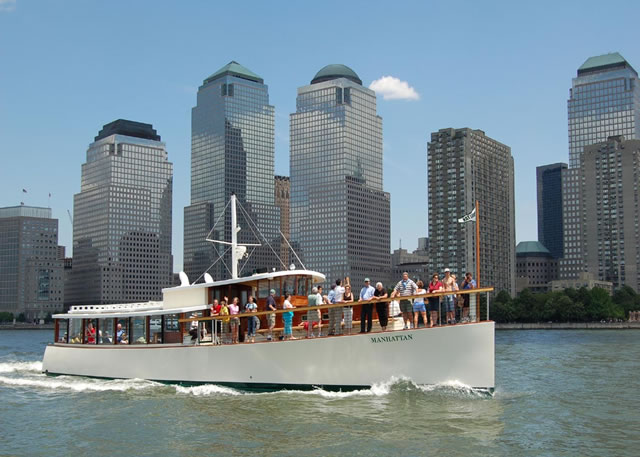 Maximum Capacity: 75 Passengers

The Perfect Afternoon in New York with a Manhattan Yacht Charter
New York means different things to different people, but everyone is in agreement about one thing; this is one of the most beautiful city in the world. Whether you are visiting or you just want to explore the city, there is no better way to do it than with our Manhattan Yacht Charter.  This is the premier cruise yacht charter in the city and it is ideal if you want to tour the city by water or spend a lazy afternoon catching the breeze. This 80 foot beauty allows you to enjoy the best of NYC from the water. It is designed in the twenties style when sailing was at its best, and you will enjoy a touch of the vintage when you board. You will enjoy fantastic views including the iconic Statue of Liberty, Ellis Island, Emperor building, Brooklyn and Manhattan Bridges and so much more. Our boat rental has a maximum capacity of 75 passengers.
The interiors are breathtaking with mahogany trim and teak decks. Our ingeniously designed luxury yacht stands out due to its unique glassed-in observatory that suits any weather. It features a climate-controlled indoor environment to ensure you enjoy the city's stunning skyline irrespective of the weather. The tables are conveniently arranged to allow personal conversation and the cushion seating makes your trip more comfortable. Whether have a private luxury party to host or you just want to unwind, our NY Manhattan Yacht Charter is a perfect idea.
For each cruise, you will enjoy a complimentary glass of award-winning champagne which makes this the perfect way to pamper yourself as you savor the best of the city.