The Cloud Nine III is a 95 foot, custom-built luxury boat, with all the amenities of a fine ship. It is available for private parties in the NYC area and NJ. It is equipped with 3 floors. Custom catering with a gourmet chef. Open upper deck, private bridal suite, and spacious dining room.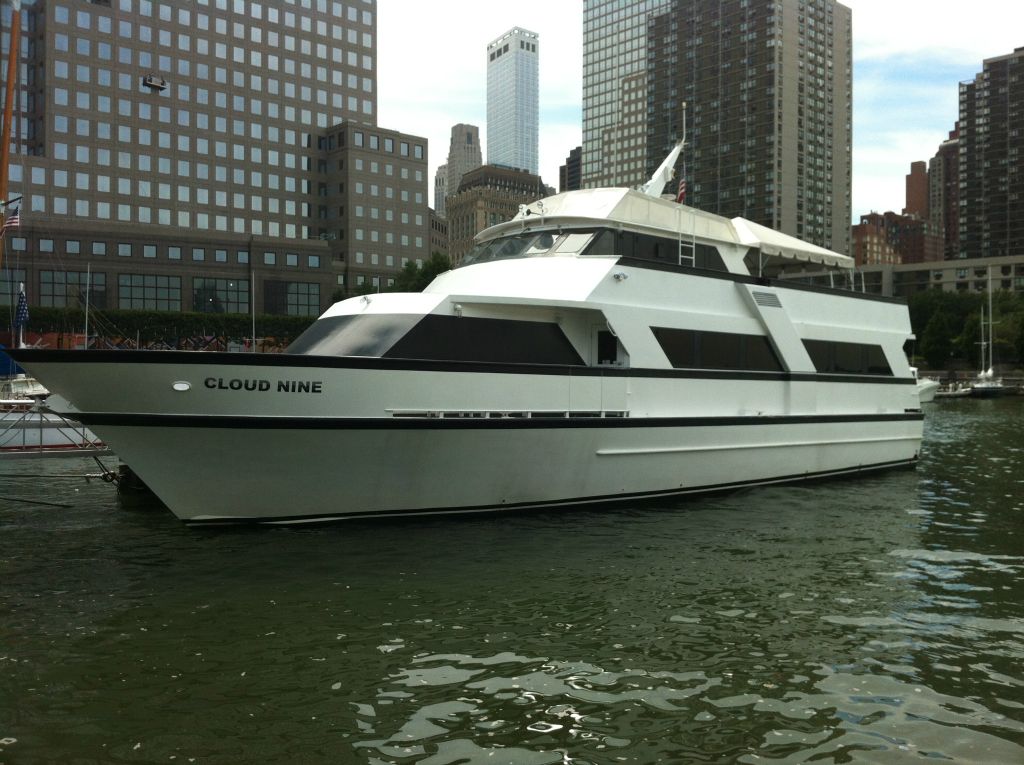 Maximum Capacity: 75 Passengers

The main Dining Room Floor has a full service bar, with black granite top and premium liquors. It has comfortable seating for up to 75 guests at formal tables. It also features couches and cocktail tables in the aft. The buffet table is built in, with black granite tops. The galley is right the dining area, so your food is the freshest it can be. Our galley is staffed by the gourmet chef that cooks up the finest of dishes. The lower lounge has couches, cocktail tables, and formal seating for Twelve guests. The top floor has a private room, which can act as a bridal suite, complete with bathroom, vanity, and a comfortable couch. Aft of the private room is an outside deck, which doubles as a dancefloor with bench seating all around, a DJ sound system, and lights. Cocktail tables surround the perimeter of the dancefloor. A tent covers the dance floor and plastic curtains can be drawn in case of inclement weather. At the bow of the yacht, on the main floor, There is cushioned seating that is excellent for enjoying the NY Harbor city tour.

This New York City based luxury yacht is the perfect boat for a wedding, birthday party, corporate event, and many other functions. This private yacht offers dinner cruises and lunch cruises around Manhattan on the East River and Hudson River offering views of the New York City skyline, as well as New York Harbor and the Statue of Liberty. This is truly one of the most spectacular yachts in the New York City metropolitan area.