Give Your Event an Elegant Touch with the Affinity Yacht Charter
Now that your planning your event, have you thought about giving your guests a rare New York treat? Well, your day can be just another weekend social event or it can be a glamorous affair that your guests will never forget.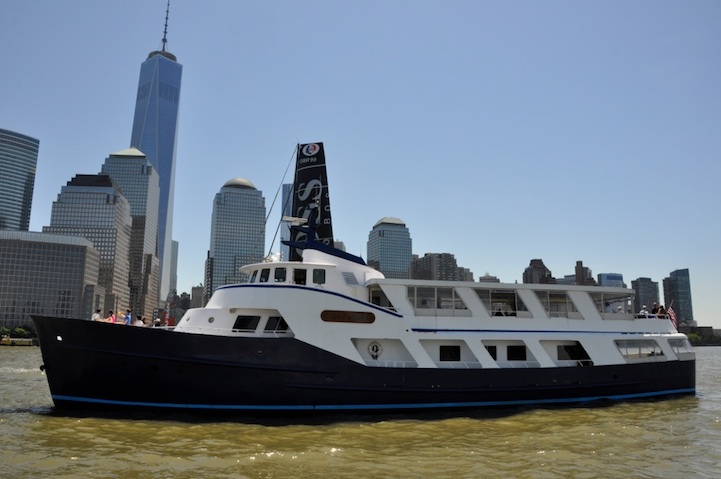 Maximum Capacity:
For Sit-down Dinner Service - 74 guests
For Buffet Service - 120 guests
For Cocktail Party - 140 guests
Our Affinity Yacht Charter is promised to host your party and treat your guests to the most exciting NYC treats they have ever received.  With our perfectly designed cruise yacht charter, you have the best party alternative to the monotonous club parting. This 1967 yacht initially christened El Toro has been refurbished to make it the most prestigious vessel in the NY harbor. Our 124 foot, 2-deck luxury boat rental is a five-star floating hotel that will add a touch of glamour to your event. It holds 150 passengers and the top deck comes with an open aft for sightseeing opportunities.
Affinity Yacht Charter is designed with luxury and elegance in mind. The comfortable climate-controlled main salon, buffet salon and bridal suit are all furnished with exquisitely designed furnishing and art to create the ideal party effect. The wrap-around teak side decks give this yacht a classic touch.  For entertainment, there are two full-service bars, state-of-the-art sound system throughout the boat, and satellite TV with DVD to ensure there is no dull moment during your wedding party. The movable furnishings can give way to dancing space with music mixed by an experienced DJ. The open-air aft provides magical sights of the city's famous skyline and landmarks such as the Brooklyn Bridge and Statue of Liberty among others. Our yacht guarantees the perfect private luxury party.