135' luxury yacht is perfect for elaborate entertaining. Panoramic windows, upper deck dance floor with an atrium, impeccable cuisine and flawless service combine to make your occasion everything you imagined. She is USCG Certified for 150 guests and offers two decks, each with it's own bar. For the brides, we have a bridal suite.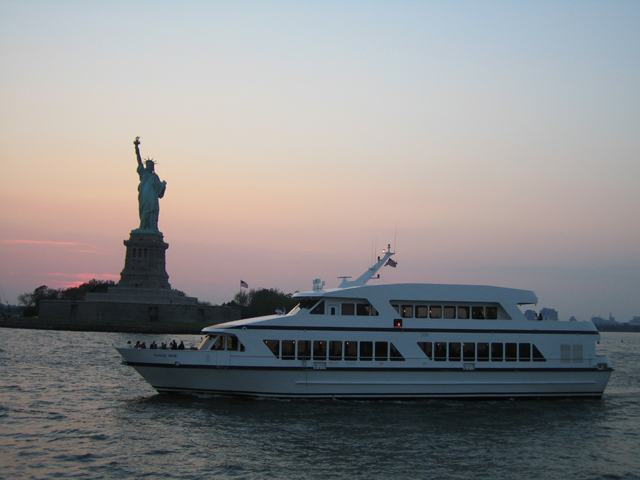 Maximum Capacity: 150 Passengers

This New York City based luxury boat is the perfect boat for a wedding, birthday party, corporate event, and many other functions. This private yacht offers dinner cruises and lunch cruises around Manhattan on the East River and Hudson River offering views of the New York City skyline, as well as New York Harbor and the Statue of Liberty. This is truly one of the most spectacular yachts in the New York City metropolitan area.

Pulling off the perfect party in New York can be a daunting task. There are so many ideas to exploit but unfortunately most of them are mundane. If you are looking for a creative way of bringing your party to life, we suggest you try our Cloud Nine IV NYC Yacht Charter. This is the most elegant private luxury party on the East River and Hudson waters. It is the ultimate entertainment option. This 135 foot custom built yacht is your best NYC club on water with all the added advantages of a luxury yacht. The prestigious boat is equipped with 2 decks and USCG Certified for 150 passengers. There are two full-service bars on each floor and if you have a wedding party, the bridal suite comes in handy. The interior is decked with elegance in mind and your guests will be dazzled by the comfy seating.  The large windows provide scintillating views of the city's skyline for your guests. The dining room is also primed to add glamour to your party, including the Yamaha baby grand piano which adds to the ambience indoors.
The crew includes a gourmet chef who ensures you enjoy the best meals during the cruise.  The dance floor on the upper deck is the focal point of the Cloud Nine IV and your guests will enjoy a true party mood on the under-lit floor, DJ lights and the best sound surround system.  There are three plasma TVs in the dining room to keep your guests entertained. Our professional staff is always at hand to make your party a success without being obtrusive. If you want to wow your NY guests, this boat rental is your trump card.