Cornucopia Princess Charter
Cornucopia Princess 1st and 2nd deck can accomodate from 175 - 275 guests. 3rd Deck can accomodate from 90 - 110 guests. It's multi-tiered interior features elegantly appointed tables, spacious dance floor and, of course, the magnificent scenery.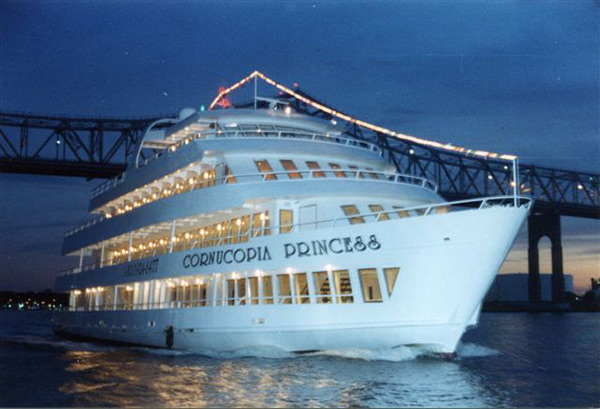 Maximum Capacity: 275 Passengers

Enjoy Extraordinary Views of New York City with a Cornucopia Princess Charter
If you have some time to spare in New York, you must do the city justice by getting to know it intimately. Well, this is easier said than done considering the crowded streets and the bustling neighborhoods.  But there is an alternative with our NYC Cornucopia Princess Charter which allows you to explore the city serenely.  This is the best boat rental for private charters and you can spice up your event in the city by giving guests a chance to drink in the amazing sights. This 130ft. Mega Luxury Yacht has a capacity for up to 275 passengers and it is perfect for lunch and dinner cruises around the city. If you have a private or corporate event in NY, it is time to think outside the conference hall or banquet rooms. With a cruise yacht charter, you are able to blend fun with your event, which is exactly what your guests need.
The 3-deck luxury yacht is primed to host any type of event from wedding receptions to corporate meetings. There is a spacious dance floor, dining rooms on each deck and 3 bars to ensure your guests are entertained throughout the cruise. The interior is perfectly designed and the large windows provide scintillating views of the Manhattan skyline.  There are photo-worthy sights ranging from the Brooklyn Bridge, Ellis Island, Chrysler Building and Statue of Liberty and of course the famed city's skyline.  The Cornucopia Princess guarantees a great private luxury party and with our professional staff on board, you can rest assured everything will fall into place.