Built in 1921 by Nathanael Herreshoff, America's greatest yacht designer, Ventura is a Federally-documented National Landmark sailing vessel. A true wooden ship! Ventura is 72 feet long and carries 25 guests. Ideal for client or staff entertaining or a special event.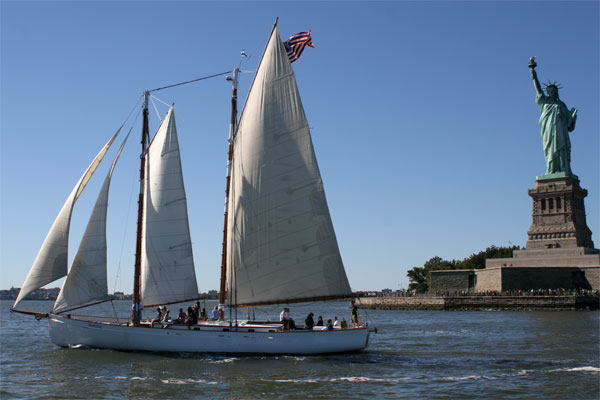 Maximum Capacity: 25 Passengers

Motivate Your New York Staff with a Ventura Sailing Charter
When was the last time you really appreciated your office staff in New York City? Forget the annual office party and team building because these mundane events are actually a drag on your team. If you really want to show your staff that you value their input, a luxury cruise with our Ventura Sailing charter would be perfect.  Our 72 ft. cruise yacht charter accommodates up to 25 passengers aboard one of the most magnificent luxury boats on NYC waters. This classical beauty dates back to 1921 and was built by the legendary Nathanael Herreshoff, one of the most outstanding boat designers in American Maritime history. The Ventura Sailing yacht has the distinguished honor of being one of the few Federally-documented National Landmark vessels on NY waters. This boat rental is primed to provide a luxurious setting for your office party as your guests take in the amazing NY city skyline. There are three sleeping cabins for private events and the spacious interior allows guests to mingle freely. The professional crew will help you organize your event and guarantee every moment of your party is exciting.
This classic boat still sails on her solid mahogany and teak hull. It boasts a finely varnished mast, making it stand out from the other craft. Sailing from the spectacular North Cove Marina on the Hudson, this American beauty is perfect for lunch and dinner cruises with amazing views of the Statue of Liberty, Brooklyn and Manhattan Bridges Chrysler Building among other sights that define this city. Whatever unique requests you have, the Ventura Sailing crew will work with you to make your office party a delight. If you have any other private or corporate private luxury party in the city, this is your perfect charter.