Respect Motor Yacht
The 145 foot Respect boasts two spacious salons which feature full service bars, hardwood dance floors, brass, teak and mahogany appointments. Large windows throughout provide spectacular views from every seat.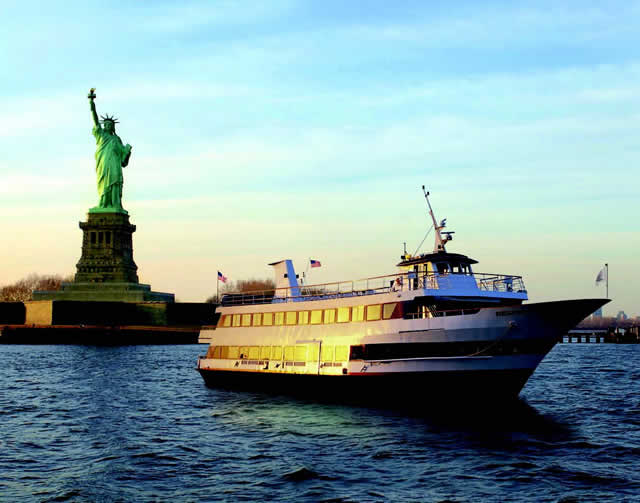 Maximum Capacity: 350 Passengers
Make your NYC Wedding Truly Remarkable with the Respect Motor Yacht
Your New York wedding is one of the most special events in your life and it is no wonder no expenses are being spared to make it remarkable.  However, most couples ruin this big day with the wrong choice of venue and they rue the fact for years. Aboard our Respect Motor Yacht, we provide you with the best location for your wedding. Our 145 ft. glamorous NYC yacht accommodates up to 350 passengers, making it ideal for your nuptials. This mercurial work of design is primed to make every event on the NY waters a delight. If you have been struggling with the choice of your wedding in the city, this cruise yacht charter is a game changer. It features two large salons from where your guests will be catered to and two dance floors to ensure your guests stay on their feet.  The spacious lounge converts into a bridal suite for the most splendid wedding party on water.
The spacious sun deck is perfect for sightseeing and your guests will savor the amazing skyline including landmarks such as the Statue of Liberty, Ellis Island, Chrysler Building, Emperor Building, Brooklyn Bridge and so much more. Aboard the Respect Motor Yacht, your guests will be awed by the welcoming teak and mahogany appointments which give this luxury boat a classic touch albeit with a contemporary twist. If you want to pull off the most memorable private luxury party in NYC, talk to our professional staff to start planning for your big day. This boat rental redefines all NY events and not just weddings.