Rendezvous Motor Yacht
Perfect for any event! A great way to cruise around Manhanttan and enjoy the skyline. Contemporary yacht with traditional mahogany dining room.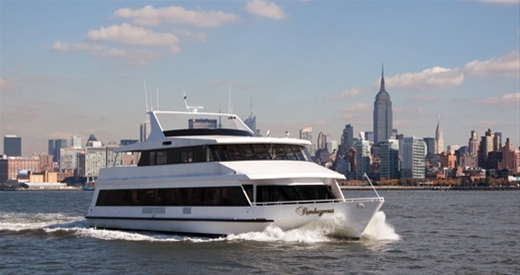 Maximum Capacity: 140 Passengers
The Perfect Party for Your New York Guests aboard the Rendezvous Motor Yacht
What is the best treat you can give your guests in New York City? If you are like most folks, you might feel that the famed NYC club scene is the best idea to wow your visiting guests, but you are in for a big surprise.  Other than the convoluted logistics, your party will just be another humdrum affair and your bored guests might not grace your events anymore. With our Rendezvous Motor Yacht, we are providing the most prestigious setting for your private luxury party. Our 120 ft. newly launched luxury yacht has a capacity of up to 140 passengers; 25-90 for a sit-down dinner and up to 125 if you want a buffet or cocktail party. This stunning beauty features an elegantly designed interior with the classic mahogany finishing in the dining room, giving your event a touch of glamour.
The Rendezvous Motor Yacht boasts large panoramic windows and a starboard and port on each deck. There is a portable parquet dancing floor that can be moved to the upper deck for a dancing-under-the-stars experience. There are 4 immaculately maintained bathrooms on board for your convenience. If you are looking for the ideal boat rental in NY City, this is your best option. Your guests will enjoy the services of a professional crew to make your private or corporate event a success. Our cruise yacht charter can also accommodate any unique requests you have in order to provide a personal touch to your event. From decorations, seating to the menu, everything can be customized to suit you. Let your guests drink in the city's sights including Statue of Liberty, New York harbor, and Brooklyn Bridge among others and they will never forget your party.