The Motor Yacht Pangaea provides the ultimate boating experience. Pangaea, a 58-foot Hatteras, is one of the last Hatteras' to be outfitted in teak and is U.S. Coast Guard Certified to carry up to 30 passengers and is an excellent option for the smaller parties.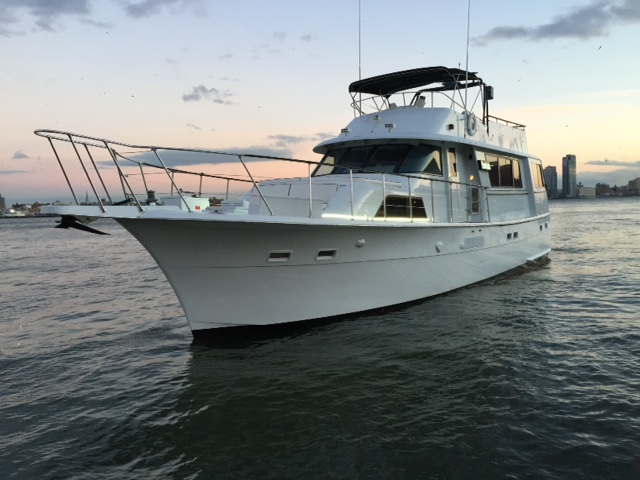 Maximum Capacity: 30 Passengers

Treat Your Highly Valued Clients with a NYC Pangaea Yacht Cruise
If you have a group of clients who have jetted into New York City for business, you must be wondering how to impress them. Well, an office party is out of the question because it is not only outdated but also shows lack of ingenuity on your side. A luxury party cruise aboard our luxury Pangaea Yacht on the other hand is an ingenious way of not only providing a serene meeting venue but also showing off your city.  It is a creative meeting idea that will give the perfect first impression.  Aboard the Pangea, your guests will be pampered in a glamorous setting that is primed for stateliness. This 58-foot Hatteras is one of the last to be outfitted in teak and this gives it a classic touch of elegance that you can't find on other boats. With a capacity of 30 passengers, this NYC cruise yacht charter is an excellent choice for a customized cruise package that suits your event.
Our boat rental blends elegance with functionality; your guests will enjoy the amazing NY skyline in a comfy contemporary setting.  This boat stands out because of the great attention to detail in designing the interior décor. They will also feel at home in the climate-controlled deck. The large sun deck provides scintillating views of the city, including landmarks such as the Statue of Liberty, Brooklyn Bridge, Chrysler Building, freedom Tower and so much more. If you want to host a customized private luxury party in NYC, the Pangea offers the most stylish venue.