Mis Moondance
Let Mis Moondance take you on a perfect weekend getaway. With three queen-sized suites and private bathrooms, she is the perfect choice for a city rendez-vous. Any night is a marvelous night to stay on the Moondance.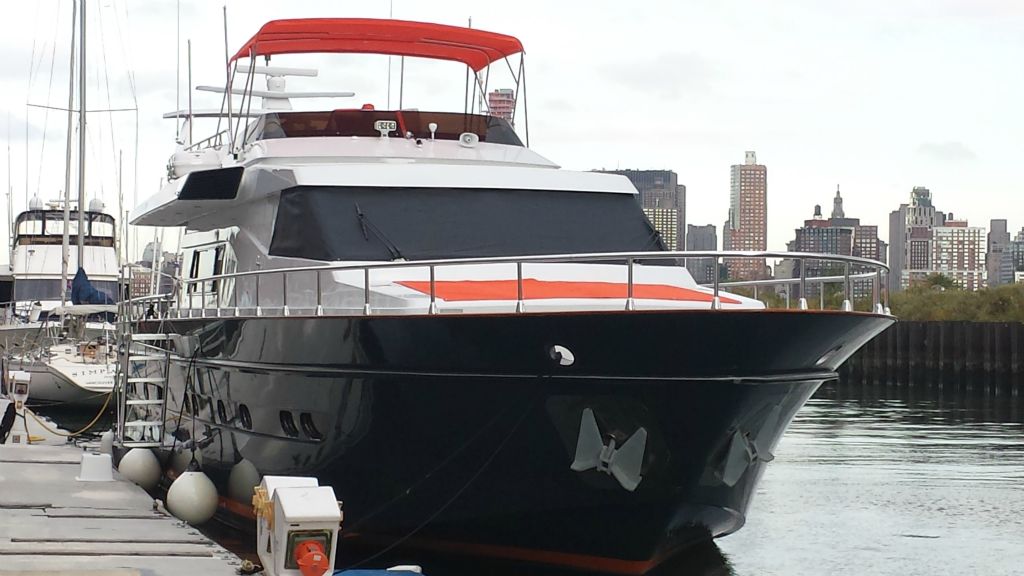 Maximum Capacity: 12 Passengers
Spend Your Night like Royalty with the Mis Moondance NYC Charter
How would you like to get away from the hustle and bustle of New York for a night? While this city is great, it moves at a dizzying pace and it is common to suffer from burnout. If you are looking for the perfect getaway from the city, you don't even have to board a plane. Our Mis Moondance cruise yacht charter is the best idea to help you unwind just a heartbeat away from the city yet far removed from the chaos characteristic of NYC streets. Our yacht accommodates 12 passengers for the cruise and 6 guests overnight. This is a 4-star beauty that features three queen-sized suites, all with private bathrooms. If you have a small group party, this NY boat rental is also the perfect location.
Our newly renovated luxury yacht is perfect for your private luxury party and the immaculate interior décor is primed to add a touch of glamour to your event. From the Navesink royal nautical carpets to the contemporary décor finishes, everything is perfected to the minutest detail. The sun decks on top and front are perfect for guests who want to catch the breeze and drink in the majestic Manhattan skyline. Every moment aboard the Mis Moondance is picture-worthy and the view of the Statue of Liberty, Brooklyn Bridge and Chrysler Building among other landmarks adds excitement to your event.
Whether you are planning an engagement party, bridal shower, bachelorette party or rehearsal dinner, this cruise yacht charter is fully fitted and staffed to help you pull off an awesome party.