Formal Dining for up to 110 Guests. Buffet style for up to 149 Guests. Air conditioning/Heat, Entertainment Center Conference Seating, 2000 sq. ft. Main Salon. An open Upper Deck allows you to take in the marvelous view of the Statue of Liberty and the Manhattan Skyline. The Jewel is the ideal setting to provide the perfect atmosphere for a successful occasion.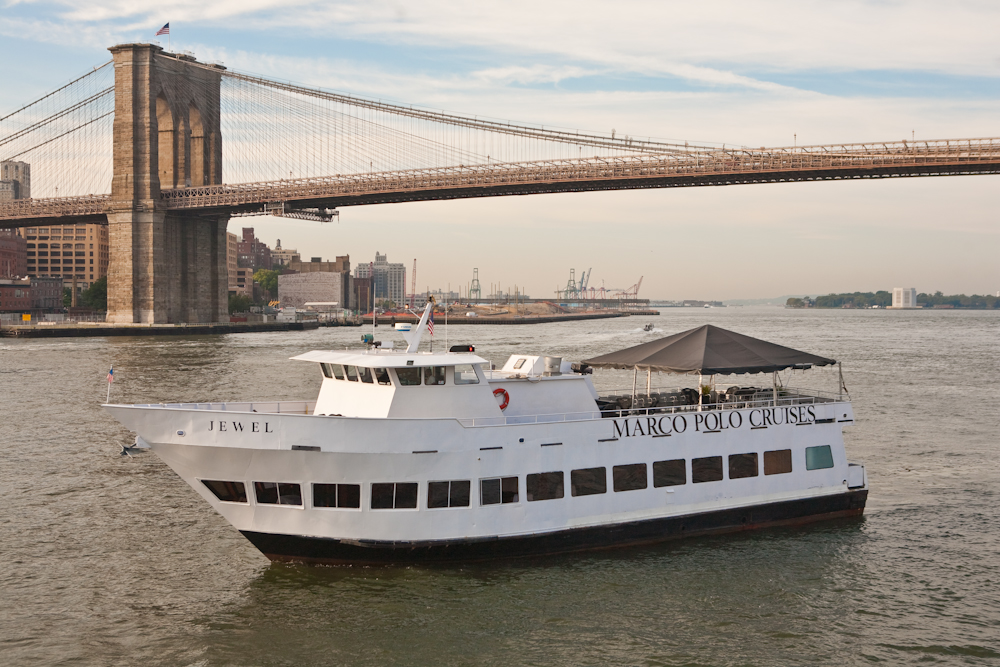 Maximum Capacity: 149 Passengers

Give your New York Staff a Deserved Break with the Jewel Yacht Charter
Your New York staff has been working tirelessly throughout the year to guarantee the success of your company. How do you show your appreciation? Of course an office party is becoming outdated and you need to think outside the box. If you are looking for a unique way to gift your staff, we welcome you aboard our Jewel Yacht Charter.  This is the premier cruise yacht charter and our experience handling corporate events makes us an ideal alternative to the monotony of an office party.  The 100 ft. luxury boat accommodates up to 149 passengers for buffet style dining, making it ideal for an office party or any other corporate event. There is an upper open deck which gives your office staff scintillating views of the NY city skyline, Statue of Liberty, Ellis Island, Brooklyn and Williamsburg Bridge among other magnificent landmarks.  The interior is perfectly designed to host the ideal private luxury party. There is ample room for all your staff at the 2000 sq. ft. Main Salon and conference seating design for your event. There is full-service bar stocked with premium liquor.
The Jewel Yacht Charter boasts a climate-controlled interior to allow your workers to interact in a welcoming environment. There is a surround system throughout the boat with pre-selected music playing to enhance the ambience.  You can choose either lunch or dinner cruises for your event and if you want customized services, we have professional staff to help you out.  If you want to motivate your office staff, our NYC boat rental gives a convenient option.