Harbor Lights Boat Charter
Harbor Lights is 150 feet long, with 3 decks. Its perfect for a casual affair and boasts plenty of wide open spaces.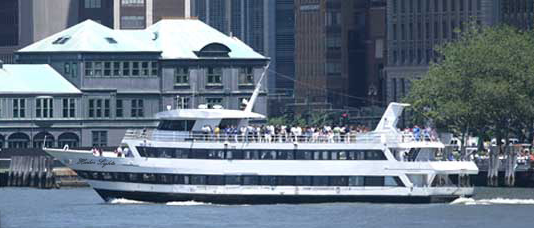 Maximum Capacity: 250 Passengers

Drink in the Best of New York with a Harbor Lights Boat Charter
New York is a city that conjures images of grandeur and fun. Well, if you are a resident of NYC, you have to make sure you get the most out of the city by exploring it intimately.  This is the only way to enjoy the city and with our elegant Harbor Lights Boat Charter, we guarantee you new insight on the city.  We know this city and our professional crew will help you savor the best of the city's skyline form the Hudson and East Rivers.  Our 150 ft., 3-deck stunning beauty accommodates a maximum 250 passengers but can easily hold 400 for sightseeing tours. If you want to feel the purse of the city, you have to do it from the water. The views are breathtaking and the environment aboard our luxury cruise yacht charter is magnificent. Whether you are just out for sightseeing or you want to hold your cocktail party on water, the Harbor Lights charter provides an ideal choice.
There are two bars and a dance floors to keep your party guests entertained throughout the cruise. If you want to hold the best private luxury party in the city, our professional staff is available to help you plan and execute your unique ideas. The climate controlled interior is perfect for private or corporate events and there is ample outdoor space for your guests to catch the breeze and unwind. Our boat rental is ideal for weddings and anniversaries, birthday parties, and sweet sixteen parties among other events. If you are ready to learn more about NY City, it is time to get on board the Harbor Lights.