Freeport Princess
The Freeport Princess is a 110 foot yacht that can accommodate up to 100 guests for a cocktail party, 75 guests for a Buffet and 50 guests for a sit down dinner. The vessel boasts three oversized Carpeted decks for your comfort.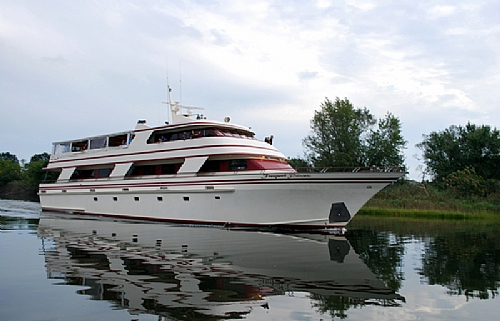 Maximum Capacity: 100 Passengers
Make Your New York Event Truly Special with the Freeport Princess Charter
If you have a special event coming up in New York, you need to think outside the box for party ideas. The idea of a house party or a banquet hall event is no longer enticing and your invites might even fail to turn up.  To spice things up, we recommend our Freeport Princess Cruise yacht charter. This is a 110ft luxury yacht accommodating up to 100 guests for a cocktail party, 75 for a buffet or 50 guests for a sit-down dinner. It is the ultimate party idea if you really want to entertain your guests.  The 3-deck yacht has ample room for any type of NYC event, be it a wedding reception or a corporate meeting.  If you want to give your event a touch of class, this luxury yacht is your best choice. The three elegant decks are skillfully designed to provide the perfect setting for your party.
In the lower deck is the formal dining area furnished with exquisitely designed dinner tables and chairs and a buffet style serving area. The main deck has a bar area and lounge-style comfy seating. The restrooms are immaculately designed for comfort and convenience. On the upper canopy-covered deck is an innovatively designed dance floor that is the life of your NY private luxury party. The upper deck is the most popular section because of the breathtaking views of the city's skyline. Your guests will savor great landmarks including the Statue of Liberty, Brooklyn Bridge and Chrysler Building among others.  The Freeport Princess is without doubt your ultimate party boat rental.