Experience breathtaking views of the spectacular New York City skyline, while dining on an exclusive menu. Dance under the stars on New York's largest floating dance floor. Or simply relax and enjoy the view on the wrap-around deck seating.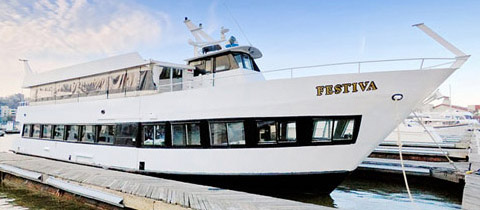 Maximum Capacity: 150 Passengers

Dance under the Stars in New York with Our Festiva Motor Boat Charter
Do you have a birthday party coming up in NYC? Or maybe you have a wedding anniversary that you want to enjoy in the city? Whichever party you have in mind, the hassle of picking the perfect venue can be stressful. With our Festiva Motor Boat NY charter, we want to help you host the party of the century in the city.  Our yacht is a remarkable work of design and it stands out from any other cruise yacht charter on New York waters. We provide the perfect party location while also allowing your guests to explore the panoramic view of the city's skyline. Our 85ft. luxury boat holds a maximum of 150 passengers, making it ideal for any private luxury party you have in mind.  But there's more; there are two decks and each has its own full-service bar. The upper deck features one of the most spacious dance floors on these waters. There is a removable top deck canopy to allow your guests the best views of the city's landmarks.
The music is played on surround systems with an experienced DJ on hand to ensure you remain on the dance floor. There is special lighting to give a glamorous touch to your party. Aboard the Festiva, you have the choice of buffet delicacies during the cruise. This boat rental is also the best to catch sight of New York landmarks such as the Statue of Liberty, Brooklyn Bridge, and Chrysler Building among others. If you want customized services, our professional staff will work with you to bring your party ideas to life.