The Adirondack and Adirondack II were designed and built by Scarano Boat Building, Inc. in Albany, NY, expressly for charter work. They have shown sailors and non-sailors alike how enjoyable a few hours or a day on a classic schooner can be. Passengers are given the opportunity to take the helm or just relax as they sail through Narragansett Bay or around New York Harbor.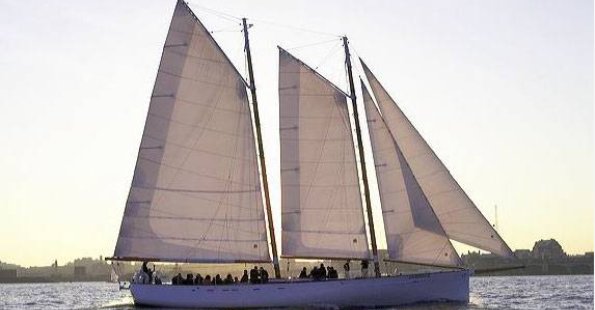 Maximum Capacity: 40 Passengers

Spice Up Your NYC Private Luxury Party aboard the Adirondack Sail Boat
If you have an upcoming corporate party in New York, you must be wondering how to pull it off without much hassle. Well, you can go for the ordinary banquet hall traditional or opt to dazzle your guests with an elegant treat aboard one of our immaculately designed Adirondack Sail Boats. Your private luxury party aboard this amazing schooner will not only impress your guests but also help them savor the city's historic skyline. The 80 foot prestige vessel carries a maximum of 40 passengers and it gives you room to make your event glamorous. If you are looking to pull off the greatest corporate event in your company, our NYC cruise yacht charter, the Adirondack yacht, is your perfect choice.
The interior of this beauty has been primed to provide an ethereal environment.  The perfectly trimmed décor provides a perfect venue for conversation and partying. Drinks are complimentary and your guests will explore NY like they have never done before. From the Hudson and East River, they will catch breathtaking views of historic landmarks including the Statue of Liberty, Brooklyn and Williamsburg Bridge and the city's harbor in all its glory.  Our highly trained crew can also customize your itinerary to fit your company's unique needs. You will have an opportunity to sit back and drink in the Manhattan skyline from the water. Whether you want a day cruise or a dinner cruise, our boat rental will cater to your needs. You can also use our yacht for your private event if you want to dazzle your guests.